The Validity of Religion and Belief in the Age of Science #15: Two Spiritual Journeys
The Validity of Religion and Belief in the Age of Science #15: Two Spiritual Journeys
"Religion … must go hand-in-hand with science."
The Baha'i Writings
 July 10, 2011.  Today's blog is about two spiritual journeys.  One is about science, religion, and a youthful search for the meaning of life.  The other is about a road trip across the great American desert to Taos.
My last post asked "Are we spiritual beings?"  The answer for me – blindingly so – is that life is a spiritual journey.
Each of us – atheist, agnostic, believer, or convert alike – is a searcher on this spiritual journey.   It is the common ground of science and religion, faith and reason.
From Science to Religion to Science – a Spiritual Journey

I could see the Trinity Site – actually the ridge behind it – from my bedroom window as a kid.  Socorro New Mexico was only 35 miles away – not far where mountains 75 miles away loomed in your living room window.  Several of my neighbors – physicists at Los Alamos during the war – had worked on the bomb.  Science was my love, my passion, and my spiritual journey all in one, but how could I devote my life to building bombs? Those were my youthful sentiments. And my eye turned elsewhere.
That elsewhere – for a while – was Taos, the mecca of the hippie movement.  Ed Sanders – of beat/hippie fame – put it this way:
"The '60s-the music, the clothes, political and sexual idealism-were a watershed in the way America sees itself. Hippie culture was at the very zenith of that watershed, and Taos was its beating heart, a Mecca which beckoned young pilgrims from all over the country."
But I was from New Mexico, so Taos had a deeper enchantment – the 1000 year old Taos pueblo, the gentle (usually) northern New Mexico Hispanic culture, the high culture of T. H. Lawrence, and Ansel Adams. It was these that made Taos a spiritual center.
But my real search was for a purpose for life.  I needed something that I could live for.  I struggled through college in Albuquerque, but mainly I searched – I searched everywhere – Nietzsche, yoga, Ram Dass, Sufi dancing, Christianity, Hinduism, Herman Hesse.  With bits and pieces falling into place, I struggled to understand all the religions of the world.  And then I found the Baha'is – who taught me that work was worship and that building a world-embracing culture was the goal.  I've been a Baha'i ever since.
And finally, I could become a physicist!  I studied hard, and then went to Japan – a successful, non-European culture – after I got my degree.
From California to Taos in 2011 – a Spiritual Journey
Flash forward – oh, 35 years or so.  The kids are off in Europe imbibing culture.  What a excellent time for a road trip – the classical way to find America.  We've done it slowly, making our way across the high desert of Nevada, up and down the Rockies (the glamor an excess of Aspen) to end up in Taos.  We will return through Zuni, Hopi, and Navajo lands.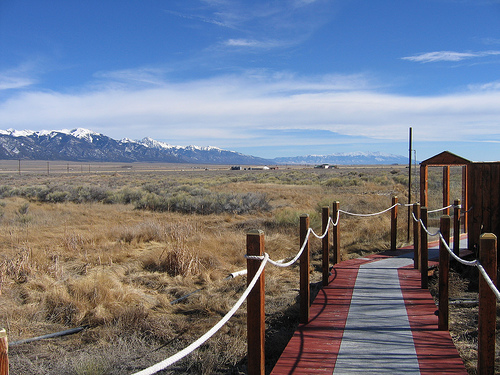 We entered the upper reaches of  Hispanic New Mexico culture in the San Luis Valley of Southern Colorado.  We found a mineral hot spring – new age, pristine, and close only to the relentless Sangre de Christo mountains.  Hot springs – for native Americans – were spiritual and sacred places – with waters that were curing and healing.  This is how this spring felt.
In Taos, we attend the 2011 Taos Indian Powwow – and talk to Hopi and Navajo drum teams.  All around us, we saw and heard drum teams, singers, and dancers.  In the intertribal dancing, everyone dances together – Hopi, Tewa, Navajo, Zuni, and others from Nations all around Indian country.  Here is some background (from the Taos News)
Powwow or pauwau is an Algonquin word meaning "he dreams."
The word originally referenced those tribal leaders who received important messages from the spirit world in their dreams. The word powwow was also used to mean the gatherings of these spiritual leaders.
The first European- Americans used the word to refer to any gathering of Native peoples. Today, the word is used to describe an inter-tribal gathering of Native peoples from across North America. The music and dances of today's powwows, including the one held at Taos, originated in the Warrior Societies of the Plains Indians. …
As the songs and dances of the Plains were shared with other tribes they spread across Indian Country. Many tribes now have their own powwow drum groups who play either Northern Plains- or Southern Plains-style music.
I've found that Taos remains the spiritual mecca I once dreamt of.  But now, it is the Taos Nation – and the Indian nations – that seem to be leading the spiritual path.
American Spirituality
What I found in my youthful spiritual journey was the Baha'i Faith and a world-embracing community of all the peoples of the world.
What I have found on my modern-day road-trip was the spiritual soul of America – its deeply-felt landscapes, its holy sites, and its pioneer spirit.  Its hard to put it in words – but the ancient dedication to truth, to community, to sharing, is still here – and sometimes I think that it is what everyone – even the most self-possessed soldier of business success – is looking for.
…………………..
This is the 15th in a series of blogs on religion in the age of science. The author, Stephen Friberg, is a Bahá'í living in Mountain View, California. He did extensive research in quantum optics in Japan before joining the semiconductor industry in Silicon Valley.