Evolution, Science, and Religion 8: No, Humans are Not Animals
Evolution, Science, and Religion 8: No, Humans are Not Animals
"The task of humanity…is to create a global civilization which embodies both the spiritual and material dimensions of existence."
The Universal House of Justice
Apr 2, 2012. In our last blog, we saw that Darwin thought of humans as animals – with sophisticated capabilities to be sure – but still animals. In no small part because of Darwin's prestige and influence – many continue to think so today.
Is such thinking scientifically sound? Or is it simply received opinion?
Christians invariably think differently than Darwin. They view humans as created in God's image and distinctly different than animals.
Is this just belief, or is it scientifically sound?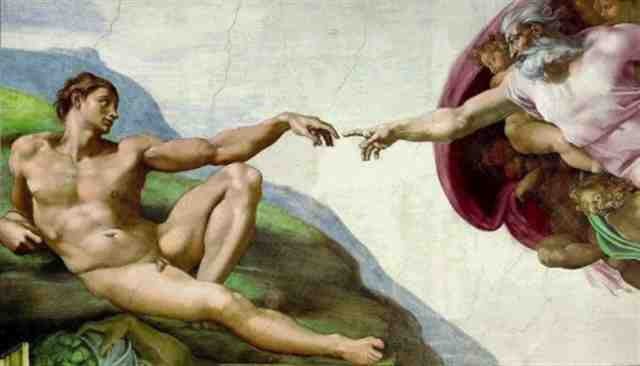 The Baha'i writings emphasize that what makes humans unique is their intellectual endowment, not their physical makeup. 'Abdu'l-Bahá urges us to understand human reality by considering our spiritual nature, not our animal nature:
… there are men whose eyes are only open to physical progress and to the evolution in the world of matter. These men prefer to study the resemblance between their own physical body and that of the ape, rather than to contemplate the glorious affiliation between their spirit and that of God. This is indeed strange, for it is only physically that man resembles the lower creation, with regard to his intellect he is totally unlike it."
and
The reality of man is his thought, not his material body. The thought force and the animal force are partners. Although man is part of the animal creation, he possesses a power of thought superior to all other created beings.
Is this contradictory to science?
What Makes an Answer Scientific?
To determine whether an answer to a question is scientific or not, one might simply ask scientists what they think — often a very interesting thing to do. Clearly, it would be fun to survey the views and opinions of a large number of scientists in a wide variety of disciplines on this question. But is it the correct thing to do?
We know Darwin's opinion — he thinks man is an animal. And we know his reasons for thinking so — all the capabilities he sees in humans are found in nascent form in animals. But, and this is an important point, it is clear that he has not done more than just form an opinion in the context of his understanding of evolution.
Most importantly, personal opinion is just opinion — no matter how eminent the thinker or scientist: it is totally different than a well-established scientific fact or theory. And we know that the opinion of scientists is frequently wrong. For example, it was the opinion of a great many scientists in Japan that the Fukushima nuclear power plant was safe from damage due to a tsunami. Their opinion was wrong.
So, the opinion of Darwin, or of a few eminent scientists, is not the answer we seek. We need scientific answers.
How Do We Find a Scientific Answer to Our Question?
A question — or an answer — is a scientific question or answer if it can be answered or supported scientifically. Or, spelling it out more clearly, a question is a scientific question if it can be answered empirically — i.e., by gathering the facts and judging them by some clear criteria. A scientific answer is such an answer
It is also a scientific question if it can be answered by a justified appeal to well established scientific findings. It is a scientific answer by similar light.
Sir Karl Popper — the eminent philosopher of science — famously said that science had to be falsifiable. If answers to questions could not — in either practice or principle — be shown to be wrong, then the questions being asked could not be said to be scientific. Popper — to name a famous example — didn't think that Freudian psychology was a science. You couldn't prove it was wrong.
So we have three paths to explore:
What are facts and the clear criteria by which we can answer the question about whether we are human or not?
Are we able to appeal to well-established scientific findings?
Are our results falsifiable?
1. What are the Facts? And by what Criteria Does One Evaluate the Facts
Clearly, if we can are going to determine whether humans are animals or not, we have to establish a criteria by which to evaluate the facts of the matter. What should this criteria be?
It is easy to think of many, but let's pick only several: biological, intellectual, social, cultural, and spiritual. Are we biologically, intellectually, socially, culturally and spiritually different than animals?
Biologically, the question is simple. Do humans have the same biological properties as animals? The answer, too, is simple. Even considering differences in hand dexterity, speech capabilities, upright posture, and brain functioning, man is an animal biologically.
What about intellectually? In a large variety of intellectual categories one can think of — intelligence, mastery of abstract principles, language, science, etc. — humans surpass animals by large margins. So, if you define the distinction between humans and values in terms of intellectual capabilities, clearly humans are different than animals — that is unless you set the judgement bar very low.
Suppose, for example, that you devise an intelligence test that both humans and animals can take and suppose that on average iguanas score 02, dogs 04, dolphins 06 and humans 100. Now, suppose that you further set a criteria for judging the difference between humans as the level 05. Then you might say: "Look! Both dolphins and humans are in the same category. Both score above 05." Then you claim that dolphins and humans are the same according to your tests, and therefore they can't be differentiated. Both are therefore animals.
But the bar has been set so artificially low that the criteria for measurement is not meaningful. It's like saying that both Singapore and Antarctica have days where the temperature exceeds zero degrees centigrade so their climate is the same.
This is essentially what Darwin and his followers have done. They point out that all the traits that we think of as human — intelligence, rationality, culture, empathy, group behavior, and the like — have counterparts, albeit at different levels of complexity, in the animal world. Therefore they conclude that humans are not distinct from and different than animals.
But, again, this is like saying that Singapore has the same weather as Antarctica because both have days where the temperature exceeds freezing. In all these example cases, no scientifically valid criteria — one that distinguishes differences that are clearly shown in the data — has been applied. The conclusion that Darwin and his followers draw — it is very clear — is scientifically suspect.
Clearly, similar types of arguments apply to social and cultural issues. There are great differences in degree between humans and animals, even acknowledging the surprising and fascinating social cultures that we know animates life for animals like elephants and killer whales.
As to spiritual capabilities, the distinction cannot be drawn in the same way as for intelligence, society, and culture. But if we consider spirituality as intelligence-driven learning based on incorporating moral and ethical principles into both one's considered and habitual responses, clearly intelligence, society, and culture provide indicators for spiritual capacity much in the same way as temperature, humidity, air pressure, and wind velocity provide indicators for the weather.
2. Can we appeal to appeal to well-established scientific findings?



Scientific findings appear to be a mixed bag, originally favoring the idea that humans are animals, but now tending towards the view that humans are unique. The paleo-anthropologist Ian Tattersall — a leading expert human on evolution and the fossil record — describes the situation thus in Becoming Human: Evolution and Human Uniqueness, (1998, pp. 188-189) :
Homo sapiens is not simply an improved version of its ancestors — its a new concept, qualitatively distinct from them in highly significant if limited respects.
… what has neatly been called "human capacity" in not simply an extrapolation of the earlier trends in our lineage that the studies of paleo-anthropologists are designed to elucidate. It is more akin to an "emergent quantity" whereby for chance reasons a new combination of features produces totally unexpected results.
In 1998, this was pushing the envelope and accordingly viewed disapprovingly (see for example, the New York Times review of the book). Large numbers of scientists then held — and many still do — to the traditional Darwinian perspective: humans are animals. Describing the conflicting views, the prominent neuroscientist Michael Gazzaniga in Human: The Science Behind What Makes Us Unique put it this way:
Thousands of scientists and philosophers over hundreds of years have either recognized this uniqueness of ours or have denied it and looked for the antecedents of everything human in other animals.
Gazzaniga's own conclusions are similar to Tattersall's:
I have decided something like a phase shift has occurred in becoming human. There simply is no one thing that will ever account for our spectacular abilities, aspirations and capacity to travel mentally in time to almost the infinite world beyond our present existence. Even though we have all of these connections with the biologic world from which we came, and we have in some instances similar mental structures, we are hugely different. While most of our genes and brain architecture are held in common with animals, there are always differences to be found.
So it is not totally clear what science is saying. Large number of scientists hold to the traditional Darwinian perspective that humans are animals. But new research — carried out by scientists like Tattersall and Gazzaniga — are pointing increasingly away from the Darwinian perspective (see for example modern studies of human uniqueness).
3. Are Our Results Falsifiable?
The third criteria we proposed was falsifiability. Answers to scientific questions need to be disprovable if they are to be valid.
In this case, we have seen that the Darwinian perspective is to dismiss criteria like differences in intellectual capacity as meaningless, citing the idea that animals have rudimentary capabilities similar in kind to those of humans to support the idea that humans are animals.
But this violates the falsifiability criterion. No level of difference between humans and animals can ever change the conclusions when considered this way. So, their answer can't be falsified and by Popper's falsifiability criteria, are not scientific.
Conclusion: Humans are Not Animals
So our conclusion is both straightforward and nuanced. In so far as biology is concerned, humans are animals. But insofar as other criteria — intelligence etc. — are considered, humans are different than animals. And this is not a surprising result.
So, humans are not animals, except biologically.
What is surprising — at least to me — is how weak and "unsciency" the view that humans are animals is. Arguments in support of that conclusion have to ignore differences in quality — and these differences are what makes scientific ideas testable and empirical — in favor of vague ideas of similarity and/or evolutionary origins. If there are any signs of intelligence — for example — in dogs, then it shows that humans are like dogs and therefore like animals. Its a weird way to think, and perhaps a no longer needed "spandrel" from the development of evolutionary thought.
Next Week
Next week, we consider the issue of the implications of our conclusions that — scientifically, as well as religiously — humans are not animals.
…………………………
This is the 8th in a series of blogs on evolution and religion. The author, Stephen Friberg, is a Bahá'í living in Mountain View, California. A research physicist by training, he authored Religion and Evolution Reconciled: 'Abdu'l-Bahá's Comments on Evolution with Courosh Mehanian. He worked at NTT in Japan before joining the semiconductor industry in Silicon Valley.