"Faith in God and confidence in social progress are in every sense reconcilable; that science and religion are the two inseparable, reciprocal systems of knowledge impelling the advancement of civilization"
- from a November 2003 letter writtenby the Universal House of Justice

July, 22 2012. On June 6, 2012, the Huffington Post published our Science, Religion, and the Baha'i Faith, penned with the help of the Common Ground team (Maya Bohnhoff and Bahram Nadimi), as a blog in its religious section.
By July 17, there were 276 comments on our comments pages. Some were in favor of the points made in the blog, some were against those points, and more than a few were back and forth postings between individuals arguing with each other on topics only peripherally related to the blog. In the following I review some of the most critical comments to see what light they add to our discussions.
The Four Ways for Science and Religion to Work Together
The Huffington Post blog, after summarizing the Baha'i teachings on the unity of science and religion, briefly looked at four ways for science and religion to work together to address world problems:
Reduce or eliminate conflicts over evolution
Develop moral and ethical principles for global progress
Provide universal education in scientific literacy
Renew and transform religion.
Comments on #1 (Reduce or Eliminate Conflicts over Evolution)
We argued that it was an important to feduce or eliminate conflicts over evolution. "Itsafight1″ thought it would be difficult:
Sounds great but there is a glaring problem. Religion for the most part derives from a "holy book" which in most cases is believed to be the unalterable, everlasting word and law of the creator of the universe. How can an adherent of the bibles teaching that the world is 6-10,000 years old (remember this is God's word) reconcile that with the fact that the Earth is at least 4.5 billion years old?
"WesStrikesBack" thought the situation was readily resolvable:
1) Reduce or eliminate conflicts over evolution. Easy! There is no scientific disagreement that natural selection works, and no theory has been posited that is a better description of how the natural world works. Has there ever been a non­religious basis for denying evolution? I now officially declare that evolution should be declared a Law and let's move on.
The first comment posited the problem as due to religion, and to religion only. The second wants to ignore the non-scientific part of the problem. The thrust of both is to ignore those aspects of the problem that are due to the use of evolution as a substitute for religion, something I see happening many places. (Sometimes, I imagine that new atheism is Christianity minus Jesus and God with an amped up Genesis story – and of course heaven replace by intergalactic vastnesses.)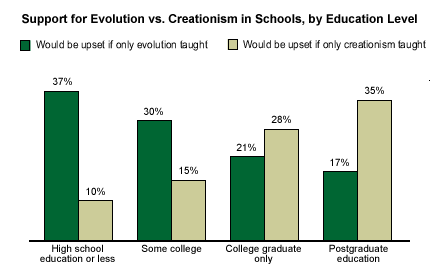 These comments show, I think, the polarization that underlies the divide on the issue of evolution and religion. Judging from these comments and many others, it seems apparent that there is little or no consciousness of the wide range of issues at play (for example, the enlightment campaign against religion, the "scientification" of religious metaphor) where the facts of evolution are one of many.
Comments on #2 (Develop Moral and Ethical Principles for Global Progress)
Our blog argued that it was an important to develop moral and ethical principles for global progress and that religion was an important part of the process. Philip J. Sparrow commented on this point, saying that science and reason can provide morality:
Surely the principles which are to be given priority are the commitment to human wellbeing and happiness – there is no system of morals, religious or otherwise, which would dispute that. If it is the case, then science does indeed have a lot to say about morality and the best ways to maximise wellbeing and happiness.
Sam Harris' "The Moral Landscape" presents a pretty convincing case for just that, arguing that behavioural and cognitive studies can tell us exactly which states of being and actions can make us happy, satisfied, more friendly, cooperative etc.
"WesStrikesBack" wrote:
2) Develop moral and ethical principles for global progress. Start here. No killing other human beings over which of 2500 major deities, invented by man, you prefer.
"Tylerious" made the following points:
Sure, you can assign the purpose of human unification to religion, though, there's a lot more to it than that. As far as I can understand, Bahai followers still believe in God and other supernatural phenomena. Logic, science, and history essentially minimize the probability of God and the supernatural to near 0%. Thus, your religion accepts science and reason as long as it doesn't interfere with your fantastic and superstitious predispositions. So, it's more than about unification. It's about promoting a universalist mysticism based on the false pretense of a rational foundation.
What I think what these comments show is 1), the extent to which people have come to hope and believe that science can provide moral values and 2), the view that religion – because it invokes the supernatural – cannot provide such needed values.
The evidence that science provides moral values for global progress – it seems to me – is only very slight, and is certainly not in recent books on the topic by such luminaries as Sam Harris.  What does do is sound the alarm that such values are needed.
Science can provide information and continuing feedback on how to implement moral and ethical principles, and clearly its methods of truth seeking offer powerful lessons about the importance of openmindedness, systematic endeavor, and the need for a dedicated willingness to investigate, but people seem to be hoping for much, much more.
Their hope – and there is a lot of tragic history that bears this out – seems in the main misplaced
General Comments

There were questions about homosexuality and the Baha'i teachings. "OtayPanky" wrote:
Clearly, science has already accumulated enough empirical evidence to show that gender attraction is a biological issue, just like being left-handed. Studies have shown that gender attraction manifests way before puberty, has nothing to do with dysfunctional parenting, and is a constant across time and culture. At yet, if you google "Ba'hai homosexuality" you find so many sad stories of people who have been rejected or ejected from their local Ba'hai communities for simply being who they are.
This presents some interesting questions. We know that gender attraction of a heterosexual kind causes a very high birth rate out of wedlock, currently some 4 out of 10 children born in the United States, leading to large educational and economic disadvantages to the children and their mothers. Clearly, more than biological determinism is at play in issues of human sexuality.  Nonetheless, it seems to be the determining influence on many people's thinking about homosexuality.  (Incidently, it was 19th century science that defined the concept of homosexuality and labelled it is a deviation, an object lesson with some pertinence here.)
….
One person, apparently a Baha'i, felt that the Baha'i Faith was "absolutist" because there are teachings that he or she interpreted as conflicting with the claims of science:
The Bahai Faith in the end is a religion. One of its principles is that science and religion agree. But the reality is that if science disproves something written in the official Writings, then the Writings trump science.
There are also Writings that dissuade Bahais from believing in evolution, stating that man did not come from animal because he has a soul. Like the other judeo-christian religions, the Bahai Faith has to preach absolutism.
This writer noted that the possibility of miracles – and a belief in a supernatural God – are acknowledged in the Baha'i teachings, and concluded that therefore that the Faith was claiming absolute authority for religion. And he or she believes the Baha'i teachings to be against evolution (a claim very hard to sustantiate given the extensive teachings which say the opposite). Both conclusions highlight the difficulties even Baha'is have in coming to terms with the considerable challenges of the Baha'i teachings on science and religion.
There seemed to be quite a few people commenting who were resolutely against religion . One person felt it was all nonsense and bunk. Only secularism could solve the problems of the world:
This is utter nonsense. Only secularism based in curiosity, systematic investigation, fact-based analysis, and reasoned thinking can disover the truth about the world in which we live and develop realistic options to solve the world's problems. Bahai is no different from any other religious bunk– just different "clothes"…
No empirical evidence was presented to support these conclusion – no results from systematic investigation, fact-based analysis, or reasoned thinking were offered in support. I should comment that those out on the web involved in discussing science and religion see these kinds of postings a lot – people with very dogmatic and strong opinions that religion is just bad or nonsense usually offered without reasoning or a command of the facts.
Several people – one Christian, one Baha'i – showered the comments with quotes from the Bible and from the Baha'i Writings, often context free.
One person engaged in a multiple-comment rant against all things Baha'i.
Summary
What I haven't discussed is the large amount of sane, intelligent, balanced comments in the discussion on the topic.
And someone with the name "trueblueredstater" made my day:
O good grief – 'no conflict between science and religion'??? Next you will be saying that the unity of mankind is dependent on us recognizing the equality of men & women, and all the races. Or that at their heart, all the religions of the world teach the same thing – love of God and our fellow man. We just can't have that – what would we use for an excuse to kill each other?

……………………..
The author, Stephen Friberg, is a Bahá'í living in Mountain View, California. He did extensive research in quantum optics in Japan before joining the semiconductor industry in Silicon Valley.