God has conferred upon and added to man a distinctive power — the faculty of intellectual investigation into the secrets of creation, the acquisition of higher knowledge — the greatest virtue of which is scientific enlightenment.
'Abdu'l-Bahá'
Jan 6, 2013. Isaac Newton – universally hailed as the Enlightenment's greatest thinker – is the creator of modern science, of modern mathematical methods, and of an influential vision of the oneness of science and religion.
Three centuries after Newton's death, educated Europeans generally reject belief in God, considering it a legacy of the past with little to offer. And they think it has much to reject, including fundamentalism, fanaticism, outdated morality, and terrorism. The New Atheist movement goes further, advocating religious intolerance and encouraging suppression of religious belief.
Newton's contributions to science and technology are as celebrated now as they ever were. But his vision of the oneness of science and religion is ignored. Substituted in its place is a clockwork "Newtonian" worldview – sometimes touted as the scientific worldview – claiming that all things arise from the interactions of inanimate matter and denying purpose agency, intelligence, will, or the existence of God. The Principia Cybernetica Website describes this worldview thus:
The world view underlying traditional science may be called "mechanistic" or "Newtonian". It is based in reductionism, determinism, materialism, and a reflection-correspondence view of knowledge. Although it is simple, coherent and intuitive, it ignores or denies human agency, values, creativity and evolution.
How did the Newton's synthesis of science and religion, once thought to resolve the greatest issues facing philosophy and Christianity in Europe, come to be seen as a reductionist denial of human and divine agency? And what lessons are there in this for those – such as the modern Bahá'ís – who see science and religion working together as a necessary part of the solution?
The Decline of the Newton Synthesis of Science and Religion

I see at least six major factors as leading to the decline of Newton's vision of the oneness of science. They are
Flaws and inadequacies in Newton's vision,
Confrontation, polemicism, and unnecessary conflict with other thinkers, even like-minded thinkers (the Newton-Liebniz conflict, for example),
Historical change, especially those leading to the French revolution, to the rise of materialism, and to the widespread rejection of religion,
Rapid advances in science and the new challenges of new topics to be explored (geology, evolution)
A predominantly intellectual and philosophical cast to the arguments, giving rise to deism and the rejection of revealed religion, and
The lack of powerful religious arguments balancing the strong scientific arguments.
Despite these flaws, the Newtonian synthesis was widely influential in Europe and even in the United States. For the educated, it came to be seen as the way to logically prove the existence of the God in an age that demand logical proof and rejected appeal to "throne, altar, and aristocracy."
But its most fatal flaw was its extraordinary success in explaining natural phenomena, a success that meant that it wasn't necessary to take into account the existence of God. When that success became clear, appeal to the existence of God became superfluous and many took that to mean that belief in God was superfluous. Newton's vision of the oneness of science and religion was undermined by the extraordinary gift of his scientific genius.
I Had No Need of That Hypothesis
There is apocryphal story about Pierre-Simon, marquis de Laplace, the gifted French mathematician and astronomer who did more than anybody to confirm the correctness and power of Newton's physics. Although it likely didn't happen, it illustrates a larger truth – conceptions about God were not needed for scientific explanation. The story is quoted in Wikipedia here:
Laplace went in state to Napoleon to present a copy of his work … . Someone had told Napoleon that the book contained no mention of the name of God; Napoleon, who was fond of putting embarrassing questions, received it with the remark, 'M. Laplace, they tell me you have written this large book on the system of the universe, and have never even mentioned its Creator.' Laplace, who, though the most supple of politicians, was as stiff as a martyr on every point of his philosophy, drew himself up and answered bluntly, Je n'avais pas besoin de cette hypothèse-là. ("I had no need of that hypothesis.") Napoleon, greatly amused, told this reply to Lagrange, who exclaimed, Ah! c'est une belle hypothèse; ça explique beaucoup de choses. ("Ah, it is a fine hypothesis; it explains many things.")
It is Newton's science – minus the animating forces of God's power that Newton believed necessary – that is the cold, reductionist, rationalistic "Newtonian" worldview. It is a worldview that he would have in no way recognized.
Flaws and Inadequacies in Newton's Vision
Newton argued that science proved the existence of God. Jonathan Israel, in his magisterial Enlightenment Contested, describes Newton's views:
The regularity, purposeful intricacy, and coherence of the universe, held Newton, are in themselves proof of supernatural agency in its design: "this most beautiful system of the sun, planets, and comets, could only proceed from the counsel and dominion of an intelligent and powerful Being." "All that diversity of natural things which we find", he argued, "suited to different times and places, could arise from nothing but the ideas and will of a Being necessarily existing."
Newton and the thinkers of his generation didn't realize how effective his laws of motion, gravity, and mathematical methods would turn out to be. Rather, they believed that their laws showed that God would have to be actively involved in all aspects of the universe, even to maintain the planets in their orbits. Peter Gay, in the The Enlightenment: An Interpretation, summarizes Newton's thinking thus:
For Newton, God was an active being: he is Creator and watchful master, wise, just, good, and holy. This "Being," Newton argued, "governs all things, not as the soul of the world, but as Lord over all"; he is a "powerful, ever-living Agent" who prevents the fixed stars from falling upon one another—perhaps by natural, perhaps by miraculous, means—and occasionally corrects the irregularities introduced into the solar system by the eccentric orbits of the planets and the incursions of comets.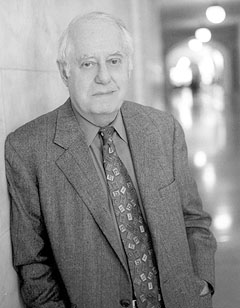 Even gravity caused problems. Left to itself, it would cause everything to collapse. Israel again:
Man then, held the Newtonians, dwells in a divinely ordered universe relying on perpetual divine supervision to avoid collapsing into chaos, a structurally unified system which can only be rightly comprehended by a 'philosophy'—in fact, a 'system' which is simultaneously mathematical, ethical, historical, and theological. Newton held that 'a continual miracle is needed to prevent the sun and fixed stars from rushing together through gravity', the constant intervention of the manus emendatrix [amending hand] of God.
Newton sees a universe controlled by God's laws, regulated by God's mathematics, and maintained by God's intervention (the analogy with the Britain of Newton's time has not gone unnoticed). God is everywhere – and must be so – to maintain His universe. This is Newton's proof of the existence of God and the essence of his vision of the oneness of science and religion.
The God of the Gaps – a Flaw
Newton's vision of the oneness of science and religion is plagued by at least two major flaws. One is what is now called the "God of the Gaps" problem.
Basically, a God-of-the-Gaps argument uses the existence of gaps in current scientific explanation to argue for the existence of God's divinity to bridge that gap. For example, Newton explained that deviations of the orbits of Jupiter and Saturn from Kepler's ideal orbits as problems that God would fix by active intervention. The need for God to do so was part of Newton's explanation of why God was known to exist. By the end of the 18th century, Laplace and others had conclusively shown, using Newton's own theories, that perturbations of the orbits of the two planets were consistent with the influence on each other of the two planet's gravities. The existence of God was no longer required.
God as Source of Order – a Flaw
Another flaw – one that is frequently discussed in the context of Darwinian evolution and its supposed defeat of religious views about creation – is God as the designer and maintainer of order, a problem closely related to the modern concept of intelligent design and the ancient teleological argument for the existence of God.
Newton's argument is conceptually similar to the intelligent design argument, which holds that God had to intervene to create the complexity necessary to maintain life. Newton held that order in universe was maintained by God's active intervention. For example, Newton believed that all the planets had to be given an initial impetus – and one of them lighted to act as the sun – to create the solar system we see now. If God didn't do so, no solar system and no life. Order, and an environment suitable for life, thus requires God's active creative in the affairs of the universe.
This requirement also shows that God exist, or so maintained Newton. But, when geological, planetary, and especially evolutionary theories developed that showed the immense lifetime of the earth and the slow geological processes involved, Newton's creating/intervening model was no longer seen to hold true, dealing what many thought a death-blow to belief in God.
Of course, what it actually showed was a flaw in Newton's vision of the oneness of science and religion. Newton's influence was so great a failure of a major component of his argument was viewed as showing that God didn't exist.
Next
We've only addressed one of the six major factors leading to the eclipse of Newton's vision of the oneness of science. In the next one or two blogs, we will address the remaining five. Following that, we will consider how to update Newton's vision of the oneness of science and religion in keeping with the Baha'i teachings of the unity of science and religion.
…………………………
This is the 10th in a series of blogs on the Enlightenment Vision of Science. The author, Stephen Friberg, is a Bahá'í living in Mountain View, California. A research physicist by training, he wrote Religion and Evolution Reconciled: 'Abdu'l-Bahá's Comments on Evolution with Courosh Mehanian. He worked at NTT in Japan before joining the semiconductor industry in Silicon Valley.