The 37th Annual Association for Baha'i Studies Conference: Guidance from the Universal House of Justice
The 37th Annual Association for Baha'i Studies Conference: Guidance from the Universal House of Justice
Religion and science are the two wings upon which man's intelligence can soar into the heights, with which the human soul can progress. It is not possible to fly with one wing alone!
'Abdu'l-Bahá, from the Bahá'í Writings.
August 26, 2013. Ten days ago, three of us – Shauna Bowden, Luisa Priddy, and I – drove down Interstate 5 through the rich and seemingly endless fields and orchards of California's central valley to the planned city of Irvine, California – the jewel of Orange County – and the 37th Annual Association of Baha'i Studies Conference. The conference was held in the Hyatt Hotel in the Jamboree Center pictured below.
It was a good conference. It was titled Learning in Action: Scholarship and the Generation of Knowledge and it delivered. I missed the plenary talk by Hooper Dunbar – a former member of the Universal House of Justice of the Baha'i World Faith located in Haifa, Israel – and I missed the screening of the now complete Luminous Journey: 'Abdu'l-Bahá in America, 1912 which was wonderful (according to all accounts). And I missed many of the wonderful and diverse sessions. But I caught two-thirds of the science and religion sessions and some truly excellent plenary talks. And I talked to lots and lots of people. I'll describe some of these in an upcoming blog.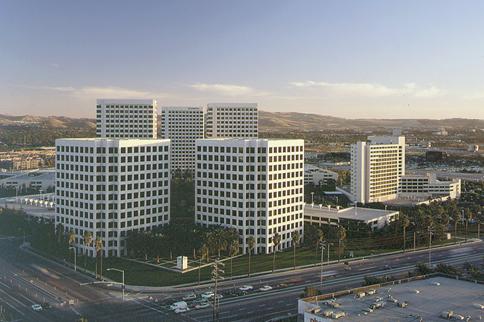 But before I do that, I want to talk about something near and dear to my heart – the new letter from the Universal House of Justice (UHJ) to the National Spiritual Assembly of Canada – the governing institution of the Association for Baha'i Studies. This letter was released on the eve of the conference and it generated considerable excitement and discussion. And it foreshadowed change and growth.
Universal House of Justice Guidance Letter Released at the 2013 ABS Conference
In 2010, the National Spiritual Assembly of the Baha'is of Canada, one of the more than 180 national spiritual assemblies around the world, wrote to the UHJ inquiring about the the role of the Association for Baha'i Studies. In response, and as part of ongoing consultation about the intellectual life of Baha'i communities, the UHJ replied with a letter of guidance, something beloved by Baha'is. I give its conclusions first:
The House of Justice looks to rising generations of Bahá'ís to wholeheartedly address a wide range of intellectual challenges, overcome all pitfalls and obstacles, and render service for the betterment of the world. In the decades ahead, then, a host of believers will enter diverse social spaces and fields of human endeavour. To this arena, pregnant with possibilities, the Association for Bahá'í Studies can offer an important contribution.
To address these upcoming intellectual challenges and to prepare individuals for rendering services, the Association for Baha'i Studies (ABS) can help Baha'i believers to examine "the forces operating in society and introduce relevant aspects of the teachings within the discourses prevalent in whatever social space he or she is present." They elaborate:
It is, perhaps, as a means to enhance the abilities of the friends to explore such opportunities in relation to their scholarly interests that the endeavours of the Association for Bahá'í Studies can be conceived. Through the specialized settings it creates, the Association can promote learning among a wide range of believers across a wide range of disciplines.
The responsibility – and the opportunity – offered to Baha'is is unique in that they are the ones who can most fully participate in the activities of the Baha'i Faith around the world by their involvement in Baha'i communities and because of their acknowledgement of the authority of the Baha'i teachings. But it is an involved and sometimes uncertain process involving learning, social action, and participation in the discourses of society.
But, do we do this using guidelines inherited from the cultures and religious institution around us, or do we create something new? According to the UHJ, we have to think in terms of an "evolving conceptual framework, a matrix that organizes thought and gives shape to activities and which becomes more elaborate as experience accumulates."
This is concept familiar to many in the sciences and in engineering. For example, I work for a company that has to engineer new tools to drive progress in semiconductor chip manufacturing. And then, my company has to create processes that allow the tools to be built efficiently and defect free.  And then it has to develop tools that allow customers to effectively use our tools. Just knowing conceptual information about something is not enough. You – or someone – has to develop how to manufacture it and put it into action and make it useful.
For Baha'is and those who think like them, the question is how we can develop powerful concepts and social processes that increasingly benefit everyone. And towards which processes – which insights – should we turn our attention? The UHJ answers as follows:
It would be fruitful if the elements of this framework most relevant to the work of the Associations for Bahá'í Studies can be consciously and progressively clarified.
In this respect, it may be useful to give consideration to insights that have contributed to the community's progress: the relationship between study and action, the need for focus, which is not to be confused with uniformity, the challenge of fostering the capacity of individuals and accompanying others in service, the dynamics of organic development, the institutional arrangements necessary to sustain ever more complex patterns of activity, the coherence required among all areas of endeavour, and sound relations among individuals, the community, and the institutions.
Clearly, this is a tall order. But there is a way to go about this – also a process – that has proven very powerful and that draws on central aspects of how science develops and progresses:
Perhaps the most important of these is learning in action; the friends participate in an ongoing process of action, reflection, study, and consultation in order to address obstacles and share successes, re-examine and revise strategies and methods, and systematize and improve efforts over time.
So, the UHJ is calling on us to use the process of learning in action to consciously and progressively clarify elements that can contribute to an evolving conceptual framework that creates ways to change the world. And it pushes us towards a unity of thought that can enable new and fresh approaches:
As unity of thought around essential concepts emerges, the Association may find it useful to explore fresh approaches with some simple steps that can grow in complexity. Gradually, those aspects of the conceptual framework pertaining to intellectual inquiry in diverse fields will become clearer and grow richer.
In a sense, this is saying work together to first work out some of the essential concepts, and as these emerge, start to explore fresh approaches using simple steps that can be ramped up (in engineering terms, to ramp up means to expand in scope in capability – I may be able to hand-build one laser, but can I ramp up my process to build hundreds or thousands of lasers?). Look for the clarity that emerges:
For example, a number of small seminars could be held to assist individuals from certain professions or academic disciplines to examine some aspect of the discourse of their field. Specific topics could be selected, and a group of participants with experience could share articles, prepare papers, and consult on contemporary perspectives and related Bahá'í concepts.
This core idea of people learning togther, widely known for its power in the sciences and in academic fields, is a powerful tool.  Special interest groups – including the science and religion special interest group which I'm a long time participant in, are another:
Special interest groups, such as philosophy or religious studies, could have gatherings to intensify their efforts. Periodic communications or follow-up meetings could be arranged to increase the effectiveness of the participation of these groups of individuals in aspects of the discourse in their chosen fields. Focus could also be directed toward those areas in the academic literature pertaining to the Faith that are ignored or dealt with in a misleading or problematic manner.
And, while we should continue to prepare and disseminate articles, we should "remagine" conferences like the one I just attended in Irvine:
In addition, existing activities, such as the hosting of a large conference, may be reimagined. Of course, continued exertions must be directed toward preparing and disseminating articles, periodicals, and books.
There is a lot to be pondered on – and acted on – in this letter from the Universal House of Justice.
Next
Next week, I will likely talk about the talk I heard at the 37th Annual Baha'i Conference.